As the campaign for the 2020 U. S. presidential election begins, we see many Democratic candidates calling themselves socialists of one sort or another. At the same time, President Trump and other Republicans denounce their potential opponents precisely for wanting to make America socialist. To assess this conflict correctly, it's necessary to understand what socialism is and what it isn't.
Because Karl Marx believed socialism is a step on the way to Communism, some people are simply afraid of the idea. Even the word "social" can seem suspect. Cherishing individual rights, many fear that attention to society or social concerns may erode their property or their freedom. But this fear is misplaced. Beyond the focus we rightly put on ourselves as individuals, the interactions we pursue with others are social. Members of families, schools, clubs, teams (even fans of the same team), neighborhoods, businesses, military units, towns, and, on a larger scale, races, religions, countries, genders — enjoy social bonds. The term should not be toxic.
A. Socialism is not Communism. What's more, socialism is no one thing. To be sure, there is a very threatening definition of socialism used by those who are most opposed to it. They call it a system of government or society "in which the means of production are owned and controlled by the state." Historically, societies with state-controlled economies are already Communist. In these, the people have no input; the state is in total control even if the government stages phony elections. Socialism is the desire to construct, by democratic means, an economy that diminishes inequality and augments equality of rights, security, and opportunity. Some prefer to call this system "social democracy." That's because some dictators have abused the term "socialism" or "socialist" to hide their accumulation of power, but others have done the same thing with religion and other disguises, like military exploits or nationalism. It is not socialism that leads to dictatorship, but dictators who mislead a negligent and credulous population. Dictators have many ways to achieve their goals and hiding behind a vague abstraction is a common tactic.
Unlike socialism, Communism is despotism — unquestionable command. Marx saw Communism as an inevitable result of two converging developments. Discipline learned in the factories, he theorized, would empower propertyless workers (the proletariat) to overthrow the shrinking class of capitalists who would eliminate one another through their monopolistic, self-destructive competition until the remaining few could no longer resist overthrow by their own workers. The result would be what he gleefully called the dictatorship of the proletariat. In the Soviet Union, especially under Stalin, this involved KGB purges, closure of churches, anti-Semitism, forced industrialization, planned famines (genocide), censorship, the gulags with their enforced psychological treatments, and more. It was an economy run by dictatorial command. In contrast to this mechanistic model of Communism, socialism is instituted democratically and run by elected representatives. Measures that socialist governments propose can therefore be challenged and corrected. Republican leaders in the U. S. refer to socialism as if it were Communist totalitarianism — a smear tactic. To suggest that Democrats desire socialism like the (not socialist) dictatorship now afflicting Venezuela or Cuba smacks of slander.
American progressives today advocate various blends of socialism and capitalism. Only the hardest of hard-liners call for the abolition of capitalism and for government ownership of all enterprise — which would no longer be enterprise. And, it's worth noting, in American capitalism today, the government is one of the biggest clients of private companies such as defense and intelligence contractors like General Dynamics, Lockheed Martin, and Leidos. In 2018, 45 companies did over half a billion dollars with the government for a total of some $89 billion. There is a symbiosis between private industry and socially (taxpayer-) funded projects. Government and business are not always opposed parties.
Economic conservatives rightly observe that in countries generally considered socialist, such as those in Scandinavia, private enterprise thrives. "There is a positive link from welfare state provisions to the productivity of private enterprises," say Erling Barth, a Norwegian economist, and his co-authors. In the Nordic countries, wage differentials are generally small, which makes it expensive to hire unskilled workers but less expensive for highly skilled ones. So efficient enterprises can open and flourish while less efficient ones close more easily. Simultaneously, taxation benefits those who must gain new skills to improve their employment. To balance this healthy ferment, the system also supports education, health care, and retirement benefits generally. By diminishing the difference between "winners" and "losers," workers and entrepreneurs can take risks, and innovation thrives. Barth says generous social support increases reciprocity, trust, and security. "[T]his is an example of the complementarity between worker security and capitalist dynamics." Even though "the evaluation of the public good may also reflect the concern for others," altruism alone is not the goal. The system pays. Nor should this blueprint be applied rigidly anywhere. The Nordic countries have made their individual adjustments. In the U. S., we have traditions that would not easily tolerate so radical a restructuring. Still, it is encouraging that potentially attractive alternatives are out there to consider.

Even those who enthusiastically proclaim themselves socialist do not agree on precisely the form of socialism they advocate. But even if they did, in the U.S., the constitution, elections, representation, and the First Amendment's protection of free speech and right to oppose government make any form of socialism introduced here the antithesis of Communism. Besides, from about 1900 our country has a long tradition of outlawing or correcting the worse abuses of capitalism. These include child labor laws, government-imposed standards for safe workplaces, accuracy in labeling, truth in advertising, anti-monopoly laws, and legalized collective bargaining. Our citizenry welcomes the protection afforded by social security, welfare, food stamps, and disability and unemployment insurance that reduce the worst inequities in the distribution of wealth. The Republican George W. Bush improved these protections with prescription insurance (Medicare, Part D) as did the Democrat Barack Obama with the Affordable Care Act. Plans to reduce the roughest edges of capitalism are not inimical to it; they protect it.
B. Capitalism has evolved. If it's a distortion to say that socialism leads to Communism, it's also wrong to pretend that capitalism in the U.S. today conforms to its own ideals. Favoritism, the purchase of influence, plutocracy, the international loyalties of multi-national firms, lobbying for special consideration for individual industries from farms to fossil fuels to IT are inconsistent with what its theorists claim for capitalism. How can you have Schumpeter's "creative destruction" when lobbyists procure privileges for their particular interests or when the government bails out companies deemed "too big to fail"? How can you renew the leadership cadres of the top enterprises if employers reserve positions for their social class or gender or race while ignoring other talent? What competition remains when colleges reserve legacy positions for the children of alums?
In its best conception of itself, capitalism assumes that an exchange of goods and services (by definition — "goods," "services," right?) is a reciprocally beneficial relationship between buyer and seller. Adam Smith, whose Wealth of Nations in 1776 provided its classic definition, held this belief. Long before that, in another work, The Theory of Moral Sentiments (1759), he explained how the economy is intimately connected to morality, compassion, and service to one another. One chapter has the title "Of the corruption of our moral sentiments, which is occasioned by this disposition to admire the rich and the great, and to despise or neglect persons of poor and mean condition." (In the 18th century, authors used long titles.) The world's first great advocate of capitalism deplored the tendency of an economy to scorn the less fortunate. He understood that an economy must fit society's moral values.
C. Individualism. One of the chief objections to socialism is the charge that it leads to conformity. Extrapolating from excesses in the Soviet Union, critics like George Orwell (1984 and Animal Farm) depict socialism as a system enforcing uniformity in thought and action. But the antidote can exaggerate in the opposite direction. For example, the heroes in Ayn Rand's best-known novels (The Fountainhead, Atlas Shrugged) are materialist, self-seeking, and soulless. Rand portrays only the rich as good, the poor as losers, the charitable as suckers, and recipients of charity as parasites. This praise of self-aggrandizement, acquisitiveness for its own sake, is ultimately a godless, secular ideology, like Communism.
We must, indeed, fight conformism. But to do so, we must identify all its sources. Communist propaganda and censorship are certainly one. Superstition and religious orthodoxy can be others. So can fads inspired by public relations, social media, and advertising. Indeed, attacks on capitalist-inspired conformity come from left and right. There's the famous scene in Charlie Chaplin's Modern Times of a worker being devoured by the gears of a giant machine. Surely a critique from the left.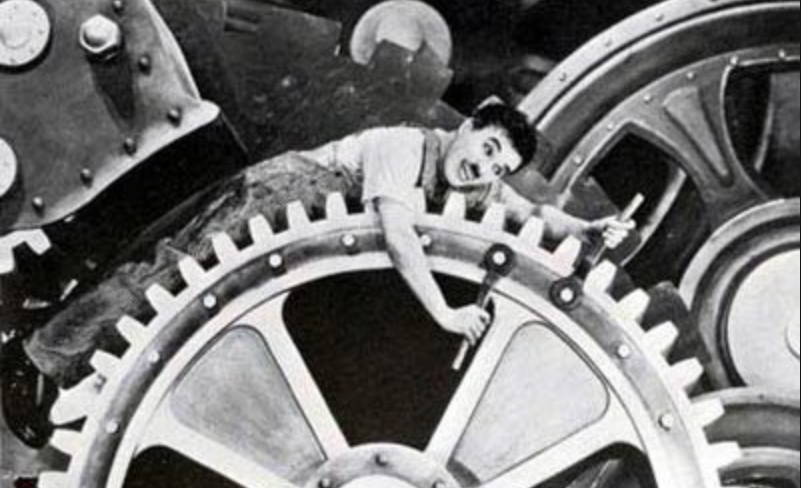 But then there's Apple Computer's famed commercial depicting attaché case-carrying and blindfolded employees in suits marching like lemmings over a cliff.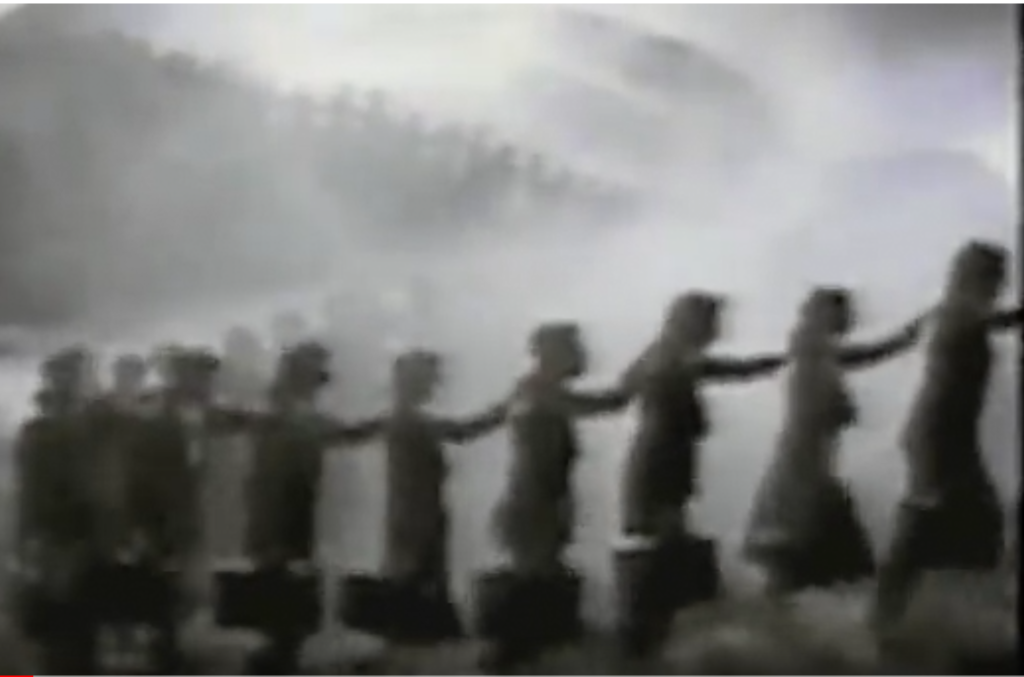 It attributes the same faults to its rivals' practice of capitalism as conservatives attach to socialism: uniformity and blind obedience.
A similar symbol is the office cubicle.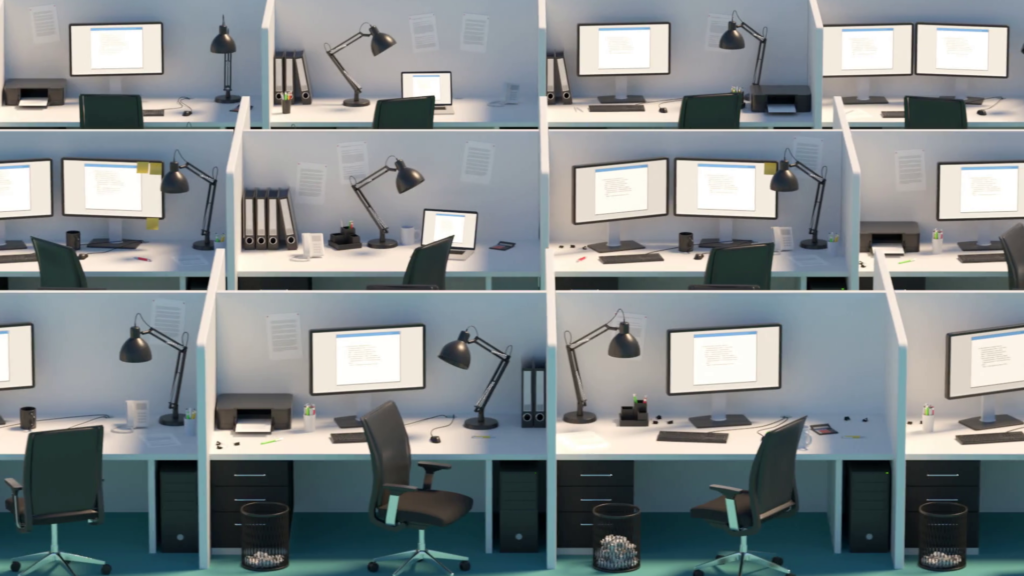 D. Conclusion. Mass production, economies of scale, pervasive advertising, market saturation, and now, potentially, artificial intelligence: all are summed up in our scornful phrase "one size fits all." In short, capitalism can reduce humans to machine status just as capitalists say socialism does. There must be a mid-point — a happy medium — where socialism and capitalism check each other. More positively, taking a cue from Erling Barth, there may be a way for socialism and capitalism to energize one another.
Conservatives and liberals in America should not see each other as enemies or threats to one another's way of life, but as fellow citizens — partners in debate. So let's find the best solutions by trimming away the fallacies in each other's positions and come to the most workable solutions to which we can contribute willingly because they were arrived at by these superior means.