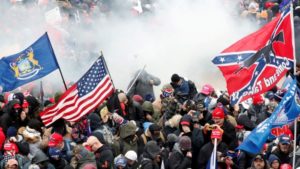 The invasion of the Capitol on January 6 fused the interests of the violent mob with those of the demagogue who incited them. In my post of January 9 ("No Surprise"), analyzing the factors behind the events of the 6th, I referred to collusion between President Trump and the invaders. Now I wish to say more about that. This collusion was not only the result of Trump's incendiary words at the rally on the Ellipse. It also involves the convergence of more general pressures from above and from below. Let's take them one at a time.
     Right wing extremist groups produce pressure from below. Many newspapers and magazines and websites cover currents within the American right wing systematically. The Anti-Defamation League and the Southern Poverty Leadership Center have long tracked the activities of militias, Christian nationalists, white supremacists, QAnon believers, Three Percenters, Oath Keepers, and others. We've seen the fanatical, murderous actions in Jonestown, Oklahoma City, Waco, Pittsburgh, El Paso, and elsewhere of these and similar groups. Since the rise of social media, alert reporters can quote their exact language. The symbols on their flags and badges and tee shirts carry coded messages. Perhaps the most obvious is the Confederate flag. The rioters harbor nostalgia for the slave-holding, secessionist South and for their demagogic President who refuses to condemn that cause.
   Their websites indiscriminately lump together Democrats, liberals, progressives, leftists, socialists, and communists. They also revile journalists, politicians, academics, experts, anyone they smear as elitist, and ordinary government employees of what, in their paranoia, they call the "Deep State." The federal bureaucracy actually serves the public, but they consider its employees enemies. Then, wrongly appropriating language from the Second Amendment, they call themselves militias and proclaim themselves patriots. Fashioning themselves as "defenders of freedom," they express their hostility to American mainstream institutions with militaristic language. Leaving aside overt references to civil war or "the Storm," the idea of "taking back our country," used almost universally on the right, is a military metaphor that evokes an armed troop recovering a lost vantage point by force. 
     President Trump exerts pressure from above. It has been clear since long before the Republican nomination debates of 2016 that Donald Trump is a vicious bully. Demands of fidelity characterize his relationship with subordinates. One might have thought that, as head of the FBI, James Comey would be autonomous. But no, he could be fired. Similarly dispensable was Attorney General Jeff Sessions, who had been the first senator to endorse Trump as candidate. To Trump, everyone is expendable. 
   After he fired a very long list of senior officials in top agencies, the President's appointees (often only acting secretaries) purged the ranks of their respective organizations. The Republican desire to shrink government served as a cover for this operation. In the Executive Branch, new cabinet department secretaries or agency heads retained only personnel presumed loyal to the President. Trump's appointees have not only purged obvious organizations like the EPA that he targeted during his campaign, but also the Global Media Agency (home of the venerable Radio Free Europe), the Department of Justice, the Defense Department, and the Department of Homeland Security set up to improve coordination of intelligence gathering after 9/11. When Covid-19 hit, he also purged the FDA, the CDC, and the NIH to prevent advocacy of cures he did not favor or the publication of reports contrary to his own pet theories.
   Trump has turned the upper echelons of our government into a hostile workplace environment where insecurity undermines its function. Fealty to the President, like a vassal's to a lord, permeates the administration. There is a party line, and those who depart from it get forced out. One result was that just "a day before rioters stormed Congress, an FBI office in Virginia issued an explicit warning that extremists were preparing to travel to Washington to commit violence and 'war'." How could such intelligence be ignored?   
     Given the deference Trump demanded throughout the government, it is easy to see how security personnel would react to unwelcome news. Developments threatening law and order must be reported from local agents upwards. But the screening system in the Executive Branch made it imperative that no harsh facts reach the top.
     How can even a responsible government official alarmed by the increasingly hostile rhetoric and numerous outbreaks of armed, threatening demonstrations of Trump's base present the situation to a boss and his immediate associates who agree with the militants? It's even less likely that ambitious, insecure, opportunistic personnel now in mid-level administrative posts would risk offending their superiors or blowing the whistle. Their boss has been stoking those emotions since before his election. 
    And what emotions? These people assume and sometimes assert that demonstrating whites, even those fearful of being "displaced" by minorities, are somehow more orderly than supporters of Black Lives Matter. They think whites who plan protests against the legal succession of presidents do not require surveillance. They are better behaved, it is assumed, by virtue of their racial superiority. This bias is manifest in the remarkable laxity of the intelligence community which failed to develop official threat assessments to warn of the true dangers in the demonstrations summoned by Trump for January 6 to protest the "theft" of his supposed electoral victory. Why did they fail? In her brilliant reporting on the subject, Dina Temple-Raston quotes R. P. Eddy, "a former U. S. counterterrorism official and diplomat who now runs Ergo, a private intelligence firm." Eddy explains why the threat was invisible to the intelligence community. "[I]t was very hard for these decision-makers and these analysts to realize that people who look just like them could want to commit this kind of unconstitutional violence and could literally try to and want to kill them." How could pro-Trump protesters, people who support the police and attack BLM demonstrations in defense of "law and order," themselves turn violent? How could they have even worse goals? This blindness comes from systemic racism.  
    Here is an argument for diversity. A more diverse corps of intelligence gatherers and analysts would not have made the same naïve assumptions about white power marchers.
    If you don't think they're marching for white power, consider the photo above. Its slogan, "Come and take it," alludes ostensibly and quite legally to the Second Amendment. But it is a Confederate flag, indicating their sympathies, and an AR-15-type assault weapon, indicating their intention.
  To sum up. Trump himself puts the top and the bottom in conspiratorial conjunction. That's the essence of populism: resentment and insurrection disguised as patriotism. Watchdog groups knew where these populist, militant, apocalyptic beliefs were heading. They reported them to the FBI, which took no action. With Trump's censorship of bad news in place, intelligence reports get buried, there is little preparation, and only an inadequate defense against the rioters. Trump and his people get their way. The Capitol is breached. Collusion collision. 
Update 1. How extreme were the rightwing chatroom statements prior to the actual insurrection? This one was quoted by The Washington Post January 12, a day before I posted this essay. "As of 5 January 2021, FBI Norfolk received information indicating calls for violence . . . . An online thread discussed specific calls for violence" including "Be ready to fight. Congress needs to hear glass breaking, doors being kicked in, and blood from their BLM and Pantifa slave soldiers being spilled. Get violent. Stop calling this a march, or rally, or a protest. Go there ready for war. We get our President or we die. NOTHING else will achieve this goal."
Update 2. March 4, 2021. Here is a very concise account of security lapses (or deliberate malfeasance) by Trump appointed officials at the Pentagon in the days leading up to the insurrection of January 6. It is by Heather Cox Richardson's newsletter of March 4. 
Today's biggest story about the previous administration . . . came from the Senate hearings about the January 6, 2021, attack, held before the committee of Homeland Security and Governmental Affairs and the committee on Rules and Administration. While there is still confusion about what happened when, it became clear that there were some serious lapses in the protection of the Capitol, and it appears those lapses originated with Trump appointees in the Pentagon.
Because the District of Columbia is not a state, its National Guard is under the control of the Defense Department, and it is overseen by Army Secretary Ryan McCarthy. The Commander of the D.C. National Guard, Major General William Walker, told the Senate that, in response to a request from D.C. Mayor Muriel Bowser and the director of D.C. Homeland Security and Emergency Management Agency, Dr. Christopher Rodriguez, Walker requested approval for the mission from McCarthy on January 1.
McCarthy's approval did not come until January 5, when the event was already upon them. And, in what Walker saw as an unusual move, McCarthy withheld approval for Walker to deploy the Quick Reaction Force, guardsmen equipped with helmets, shields, batons, and so on, to respond to civil disturbance, without the approval of the Secretary of Defense.
Then, at 1:49 pm on January 6, then Chief of the U.S. Capitol Police, Steven Sund, called Walker to say that the Capitol had been breached. "Chief Sund, his voice cracking with emotion, indicated that there was a dire emergency on Capitol Hill and requested the immediate assistance of as many guardsmen as I could muster," Walker told the Senate. Walker immediately called the Pentagon for approval to move in his troops, but officials there did not give the go-ahead for 3 hours and 19 minutes. Once allowed in, the National Guard troops deployed in 20 minutes. But by then, of course, plenty of damage had been done.
The delay in deployment stood in dramatic contrast to the approval accorded to the National Guard to deploy in June 2020. Today's testimony suggests that the Pentagon placed unprecedented restrictions on the mobilization of the National Guard on January 6, preventing it from responding to the crisis at the Capitol in a timely fashion.